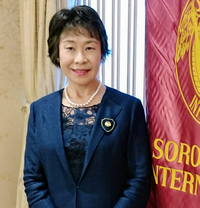 1970 was the year in which the World Exposition Osaka was held in all its glory.
At the same time, this is also the very year in which Soroptimist Osaka International was first recognized as an organization and started its existence.
Thanks to the selfless support provided by you all, we are happy to celebrate the 48th year of our organization during this current term.
Our members number forty. Regardless of age and moving forward beyond the supposed barriers of different occupations, we continue to do our very best to provide our voluntary services in a spirit of harmony.
Soroptimist International has the objective of giving women and girls the chance to realize the dream of a life led with purpose and optimism. To this end, we engage in numerous voluntary programs and various support activities, and we are a global support association formed by women.
In this term, our leading guideline is the "advancement of education for women and girls" as our point of focus. We make efforts to provide career support to further the dreams and future of young people. In addition, we also aim to offer a better environment for children who wish to work hard and diligently, or who hope to gain specific knowledge to become independent.
We will do all we can to grant this supposedly natural right even to women who are prevented
from achieving these goals by adverse circumstances. We want them to be able to develop their abilities and fulfill their wishes.
We hope for your your kind understanding as well as your future support. Should you happen to look at our homepage and feel that you have some interest in the activities of Soroptimist Osaka
International, please do not hesitate to contact us. We all are very much looking forward to hearing from you.
2017
Aya Fukuhara
(Chairwoman)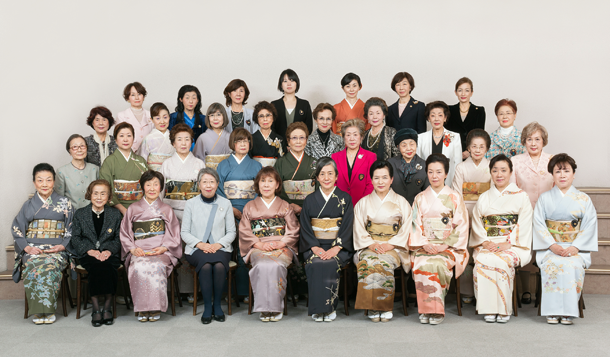 ▲Members of SI Osaka   (Jan.2017)
Club Office S.I. Osaka
RIHGA ROYAL HOTEL
#403 5-3-68 Nakanoshima, Kita-ku Osaka 530-0005 Japan
TEL 06-6448-1121(EXT3880) FAX 06-6448-1578
Soroptimist International
The word Soroptimist comes from the combination of two Latin words "soro" and "optima" -meaning the best for women.
It started in U.S.A. in 1921. Total membership is approximately 90,000 in over 3,165 clubs in 124 countries as of 2007.
Soroptimist International of the Americas
1709 Spruce Street Philadelphia, Pa 19103-6103 USA
Phone: 215-893-9000
Fax: 215-893-5200
E-Mail: siahq@soroptimist.org
website: www.soroptimist.org
S.I. of Osaka, Committees
– Program Service Committee
– International Goodwill and Understanding Committee
– Awards Committee
– Sponsorship Committee
– Finance Committee
– Laws/Resolution & Soroptimist Orientation/Leadership Training Committee
– Membership Committee
– Public Awareness Committee
– Attendance Committee
– Ways and Means Committee
– Japan Foundation Committee
Friendship Link Clubs
Soroptimist International of Osaka
– Charter Date: June 2,1970
– Charter Members: 40
List of Service Projects of S.I. of Osaka, Japan (from June 1970 to September 2009)
Donation to Keihan Cord Blood Bank
Donation to the construction of Japanese Institute of Anatolia Archaeology(the Middle Eastern Culture Center of Japan).
Donation to Hanshin Great Earthquake Relief Project
Donation to Save the Children Foundation
Drinking Water Pipe Line at Pandan town in Philippines
27 wheelchairs to special care nursing homes(2)
Hearing aid carpet to Kozu Children's School for the dumb. Together with TV video deck and word-processor.
TV AND video sets to 5 children's homes in Osaka city
I van with lift for wheelchairs for disabled persons
Wheelchairs(15) to Osaka Senior Citizen's Health & Welfare Center
4 pianos to Women's Centers in Osaka city (North, West, South and East Districts)
Program of Musical Healing. 4 upright pianos to Kongo-Colony, Shoshinen, Helen Keller Foundation Peace Dormitory, Kinderhiem-Imagawa-Gakuen
Sport Center in Osaka city. Electric Speaker System.
Clara Group in Siera District, West Africa
S.I. Osaka 15TH anniversary donation to Osaka prefecture and Osaka city
Scholarship to foreign students in Osaka
Osaka Children's Center: Children's Outdoor Projects Welfare Settlements: TOKO-GAKUEN, ASUNARO, HIBARI
Welfare settlements: KIBO-NO-IE, SHION-GAKUEN
Work-capacity evaluation machine to medical department of Osaka City University
Soroptimist International of Osaka
| Chartered Clubs | Date | |
| --- | --- | --- |
| S.I. of Osaka-Kita | June | 1982 |
| S.I. of Osaka-Minami | June | 1984 |
| S.I. of Osaka-Hokuto | June | 1985 |
| S.I. of Osaka-Naniwa | July | 1987 |
| S.I. of Sakai | May | 1988 |
| S.I. of Osaka-Umeda | May | 1990 |
| S.I. of Osaka-Kadoma | July | 1992 |
| S.I. of Osaka-Nanba | April | 1994 |
| S.I. of Osaka-Misasagi | June | 1998 |
| | | |
| "S" Club of Otemon High School | October | 1989 |
| Osaka Venture Club | May | 1992 |
30TH Anniversary Commemorative Contribution (Mach 2000)
5 camphor trees and an iron arch of rose garden at Osaka Tsurumi Garden.
Furniture to the dormitories of foreign students in Osaka city
Club Meeting
Third Tuesday At RIHGA ROYAL HOTEL