The 40th anniversary donation as the joint project with Rotary clubs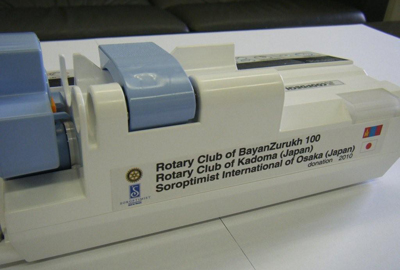 We attended the regular meeting of Bayanzurkh 100 Rotary Club in Ulan Bator.
One of the Rotarian, Ms. Oyun , Diet Member, told us that the medical facilities are very old or in trouble in Mongolia.
In the First Maternity Center of Mongol National Health Service, a shortage of the medical facilities is very serious according to the increase of the baby birth. So we decided to donate ten syringe pumps. We believe that these medical instruments will be a great contribution to newborn babies and their mother.
Also, we think that the joint project with the world wide Rotary Clubs improve the name of the Soroptimist International.
President Akiko Tominaga